EN
French digital artist, Mathieu Le Sourd (Maotik) focuses his work on the creation of immersive multimedia environments, interactive installation and audiovisual performances. His work has recently been presentd in various festivals and galleries around the world, such as Mutek Festival, B39 in Seoul, Signal Festival in Prague, the British Film Institute in London and ARS Electronica in Linz.

Always in search of new challenges, Le Sourd designs his own audiovisual tools, generating visuals with algorithms and creating 3D worlds to transform perceptions of space. He collaborates with musicians, performers and scientists in order to continue his research into the relationship between art, science and technology.

Maotik recently moved in Berlin where he continues his artistic research by taking part in the art residency organized between Sonar+D and Factory Berlin. He also joined the CODE university where he works as a professor giving lectures about interactive design, generative design and AR/VR environments.

FR
Mathieu Le Sourd (Maotik), artiste numérique français, concentre son travail sur la création d'environnements multimédia immersifs, d'installations interactives et de performances audiovisuelles. Son travail a récemment été présenté dans différents festivals et galleries à travers le monde, tels que le Festival Mutek, B39 à Seoul, Signal Festival à Prague, le British Film Institute à Londres et ARS Electronica à Linz.

Toujours à la recherche de nouveaux défis, Le Sourd conçoit ses propres outils audiovisuels ; il crée des visuels generatifs à partir d'algorithmes et invente des univers en 3D pour transformer les perceptions de l'espace. Il collabore avec des musiciens, des performers et des scientifiques afin de poursuivre sa recherche sur les relations entre l'art, la science et les technologies.

Maotik s'est récemment installé à Berlin où il poursuit ses recherches artistiques en participant à la résidence d'art organisée entre Sonar+D et Factory Berlin. Il a également rejoint l'université CODE où il travaille comme professeur donnant des conférences sur le design interactif, le design génératif et les environnements AR/VR.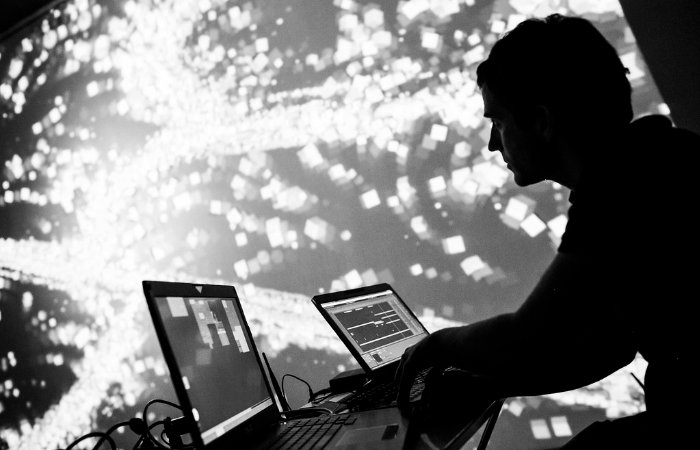 E: m@maotik.com
M: +33 680242014 (France)
M: +49 178 7198231 (Germany)